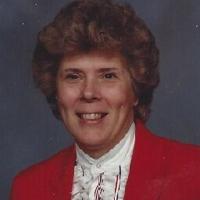 Ruth Eileen Hammell Lefever 1934 – 2022 | Obituary
Ruth E. Hammell (Lesley) Lefever, 88, of Kirkwood, PA, returned home to be with her Lord and Savior on Monday, October 31, 2022, at home with her family. She was born on March 14, 1934 in Camden, NJ. She was the daughter of the late Reeve H. Hammell and the late Mary (Penhallow) Hammell of West Collingswood, NJ.
She attended Collingswood High School. She then attended Penn State University and earned a degree in general science and home economics. At Penn State, she met and married Hugh Lesley. They moved to the farm in southern Lancaster County to raise a family and teach in the school district of Oxford, Pennsylvania. She taught for 27 years in the Oxford and Solanco school systems.
She was predeceased by her parents, her twin brother Rodney, her brother Robert, her sister Jean, her first husband, Hugh Lesley, and her second husband, James Lefever. She is survived by her four children, Kenneth Lesley (and Catherine Osman), Karen Lesley (and Ronald Rice), Eileen Scotten (and Michael Godra) and Peter Lesley. She has five grandchildren, David Lesley, Sarah Osman Lesley, Dwayne Hugh Scotten, R. Christopher Scotten and Cheyenne Lesley. She has five great-grandchildren, Tyler Scotten, Jared Scotten, Landon Scotten, Olivia Scotten and Sydney Fey.
Ruth was a life member of the Union Presbyterian Church. She led the Junior Choir for 15 years. She sang in the senior choir, supported the church's accounts as treasurer, and was always available to support the many ministries of the church. She was an active member of the community. She belonged to the Soroptimist Club and the Octoraro Art Association. His art was his passion. She enjoyed teaching arts and crafts to anyone who wanted to learn.
She and Hugh built their home from 1960 based on a photo she saw in Better Homes and Gardens. She was a self-taught home designer and mason who laid all the stones for the house herself with the help of her husband and children.
Ruth loved to travel. She had close friends in France and traveled to Southeast Asia with her son and daughter-in-law.
The cancer that ultimately claimed her life began when she was 42. She never let cancer control her. Despite her many returns, she always kept a positive attitude.
Funeral services will be held at 11:00 a.m. on Saturday, November 12, 2022 at Union Presbyterian Church, 5637 Street Rd., Kirkwood, PA where friends and family may visit beginning at 10:11 a.m. Interment will be in the cemetery of the Union.
Arrangements are made by Edward L. Collins, Jr. Funeral Home, Inc., Oxford, PA.
Send flowers to the family of Ruth Eileen Lefever
Browse "