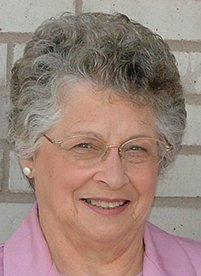 Lois H. Clawson | Journal review
Lois H. Clawson, 88, died on Sunday, September 19, 2021 at her countryside home in Jamestown.
Lois was born April 3, 1933 in Fithian Illinois, daughter of Guy and Leona (Arnold) Ludwig. She married Harold Clawson on September 12, 1954 at the Presbyterian Church in Thorntown. He preceded her in death.
Survivors include: two children, Devon (Kathy) Clawson and Gerald (Janet) Clawson; sisters, Patricia Owens; step-grandson Thadd (Laura) Haltom and three step-great-grandchildren, Ava, Weston and Ethan Haltom; as well as several nieces and nephews.
She was predeceased by her parents; brothers Robert and Lloyd Ludwig; and his sister Winifred Bush.
Lois graduated in 1951 from New Ross High School, where she was the Salvatorian. She attended Purdue University for a short course in home economics after graduation. Later in her professional career, she also took computer courses at Ivy Tech. She worked a short time for the Indiana Bell telephone company, then from 1953 to 1968 worked part-time at the First National Bank in Crawfordsville. Then, in 1968, he became full-time and worked during the transition from banks to Bank One, retiring in 1993 after spending 40 years in the bank. She was assistant vice president of accounting services working with IRA and savings accounts. She also helped her husband with the bookkeeping at Harpel Seeds in Shannondale Indiana for many years.
She was a member of the Shannondale Presbyterian Church and held various roles within the church.
Lois enjoyed gardening, sewing, and baking. She was well known during her professional career as a pastry chef, from simple sheet cakes to wedding cakes; bake in molds that her husband had made for her and make soft and delicious cakes. She also really enjoyed getting together with her family for a nice meal and a chat.
Family and friends will gather on Monday, September 27 for visits from noon until the time of the 2 p.m. funeral service, with Pastor Tom Evans officiating at the Strawmyer & Drury Mortuary, 2400 N. Lebanon St., Lebanon. After the service, Lois will be buried in Pisgah Cemetery in Montgomery County.
Commemorative contributions in his memory can be made to the Alzheimer's Association.
You are invited to visit the website where you can sign their online registration and leave a personal message www.strawmyerdrury.com.