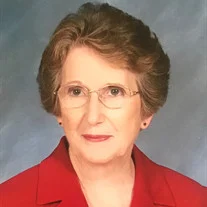 Joy LaVaughn McAllister King | Free Iredell News
Joy LaVaughn King85, of Mooresville and Huntersville, North Carolina, passed away Friday September 9, 2022. She was born June 22, 1937 in Mooresville to the late Alvin and Sally Jones McAllister.
Joy was a member of Berea Baptist Church, where she played organ and piano for many years. She sang in the adult choir and led the children's choir. She taught children's Sunday School classes and Vacation Bible School. For many years, when her children were young, she was a homemaker. She was particularly fond of sewing and gardening, tending to beautiful rose gardens. She retired from accounting and office work after returning to the workforce when her children were older. Joy loved her family and will be dearly missed by all who knew her.
In addition to her parents, she was predeceased by her loving husband, Ramon Erwin King; two brothers, Nevin and Frank; and two sisters, Helen and Cora.
She is survived by her son, Reverend Dr. Mark King (Patricia); daughter, Angela Bales (Robby); grandchildren, Joel, Ashley and Meredith King, Emily Bales Brown (Chris) and Anderson and Avery Bales; great-granddaughter, Magnolia Joy Brown; and many nieces and nephews.
Funeral services will be held at 11 a.m. on Tuesday, September 13, 2022 at Berea Baptist Church, Mooresville, with Rev. Joel Collette and Dr. Mark King officiating. Interment will follow the service at the church cemetery. The family will receive friends after the burial at the church.
Cavin-Cook Funeral Home, Mooresville, serves the King family. Condolences may be presented to the family at www.cavin-cook.com.