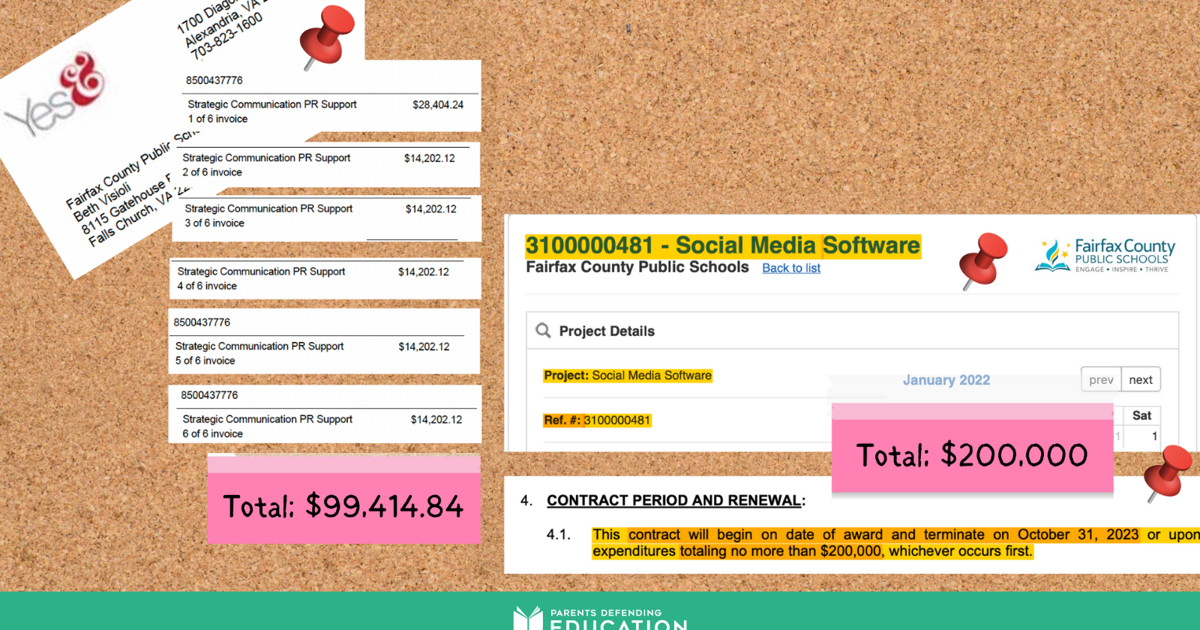 FCPS Spends Taxpayers' Money on PR Firm, Offers Social Media Monitoring | Fairfax County
FAirfax County Public Schools spent $99,414.84 of taxpayer dollars over six months in 2020 on Yes & Agency, an Alexandria "crisis communications" contractor, to help it "mitigate controversies" and to protect "the FCPS brand of being one of the best public school systems in the country," according to documents received by Parents Defending Education, a national nonprofit organization, in response to a request from the Freedom of Information Act.
He also used the company to try to "control the narrative" of his 2020 changes to remove race-neutral admissions to Thomas Jefferson High School for Science and Technology (TJHSST).
And now, according to a "request for proposal" a local parent shared with Parents Defending Education, the struggling school district is seeking to pay a contractor up to $200,000 for "social media management services" to "monitor threats, harassment, hate speech and intimidation" for its Office of Safety and Security, including through "active listening", "deep and dark web sources not visible to traditional search engines and "Open Source Intelligence".
It further seeks to "classify aliases, usernames, emails [sic] websites, etc and "visually identify relationships and connections between people".
The new surveillance comes as the National Education Association is criticized for trying to influence social media giants to silence critics – mostly parents – and the National School Boards Association has imploded after trying to slander parents as purveyors of "domestic terrorism".
"The FCPS Social Media Monitoring Program is in the developmental stage and aims to protect students and staff from potential security threats through rapid notification and response," said FCPS spokesperson, Julie Moult, in a press release published to the media. "As this program develops, it will be supported by regulations and procedures. This is just one part of our comprehensive safety and security program which focuses on a safe school environment.
The school district's request for proposal says it wants to protect "all students or teachers" within the school district, with no mention of parents. Local parents have expressed concern that the "informal" RFP, called "Informal RFP3100000481" and dated November 30, 2021, is a waste of money that should be spent on mitigating the learning loss suffered during the pandemic. Covid. The bidding process closed on February 2.
The new request for proposal comes amid new details about how the school district paid $99,414.84 to Yes & Agency in 2020 for "strategic communications" support for six months from June 2020 to December 2020. The Fairfax County did not respond to a request for comment regarding this contract. .
According to company invoices, Fairfax County Public Schools paid the company $28,404.24 for June 2020, its monthly installment for the remainder of the year "doubled to account for the intensive labor required to launch the project.
The school district paid $14,202.12 per month for an additional six months of services in July, August, September, October, November and December 2020. One of its selling points for winning the deal was that "having many staff members as FCPS parents, we are ready for the community…"
According to its balance sheets, included in the proposal, the company had revenue of $17.3 million in 2019, compared to $16.1 million in 2018. Its net income rose to $912,575 in 2019, from $421,108. dollars in 2018.
The company said, "Yes & has also identified partners who can act as message multipliers and provided materials and messages that they can deliver through their channels, further amplifying customer messages."
During the contract, Tuesday, September 22, 2020, School Board Member Rachna Sizemore Heizer said she was unhappy with the media strategy on the controversial issue of changing admissions at Thomas Jefferson High School for science and technology. She emailed Superintendent Scott Brabrand, FCPS Chief Operating Officer Marty Smith, and Communications Manager John Torre, with the subject line "TJ admissions and the media."
Sizemore Heizer wrote, "…I think we need strategic communication and stronger talking points around TJ's admissions…." She added, "I suggest we frame it on increasing diversity by redefining merit rather than a simple lottery." She concluded, "I respectfully suggest that we do more to control the narrative…"
Torre said the school has a communications contractor, Yes&, "working on a more strategic response."